Men have been using footwear to improve their stature since medieval times. Star actors would use raised shoes to look more impressive and have a commanding presence while performing on stage. Height increasing shoes have evolved a lot over the years--and our elevator shoes are the culmination of the latest in technology, design and style. 
Elevator shoes can increase the height of the wearer from 2 to 5 inches. For shoes that provide a lift of 4 to 5 inches, much of the height increase is achieved through thickened sections hidden inside the shoe, ensuring that there is no compromise on style.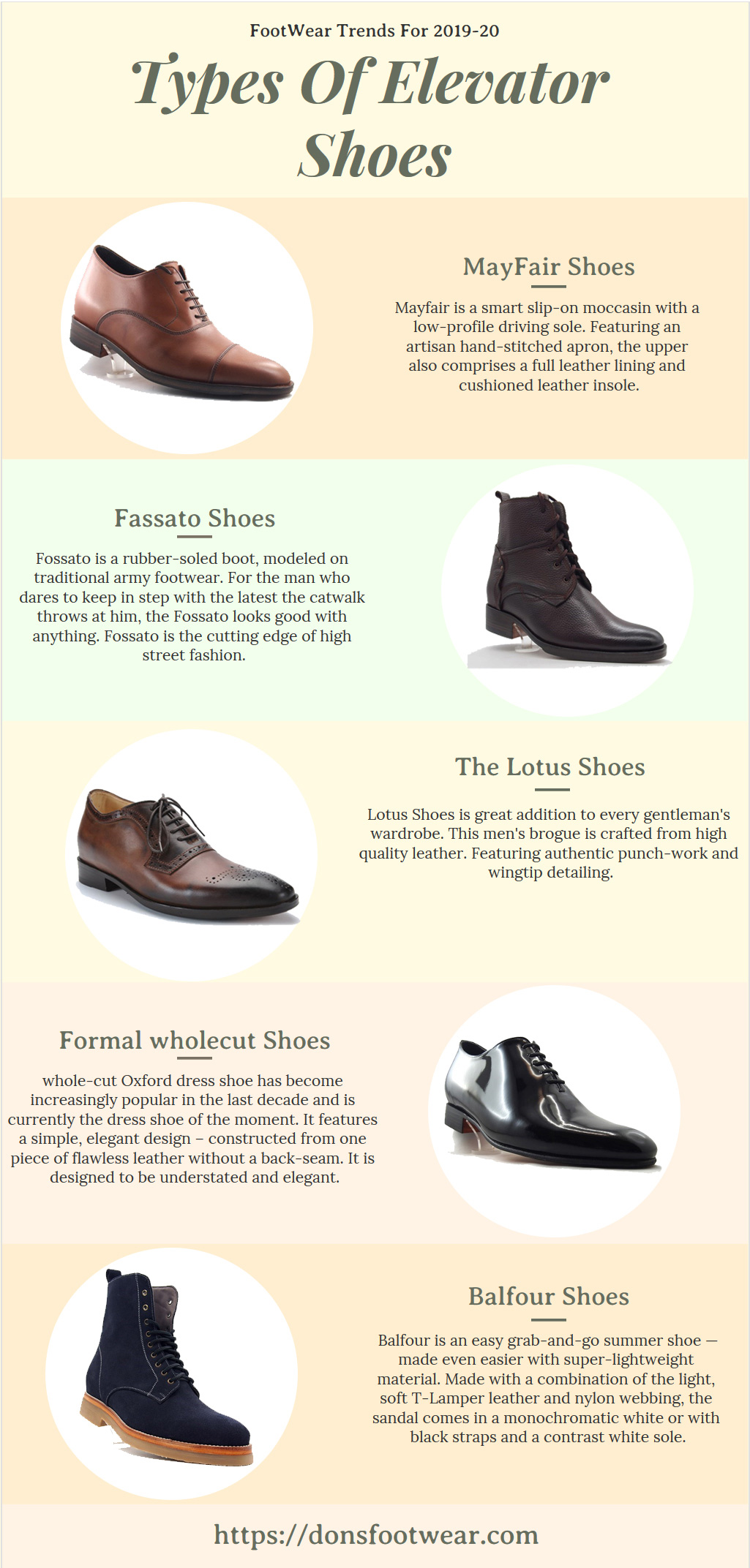 Embed This Image On Your Site (copy code below):

MayFair Shoes
This smart moccasin has a driving sole that is low profile and comfortable. The upper features an artisan hand-stitched apron and also comprises a cushioned leather insole and fullleather lining. The insole doesn't need to be arched on the heel which creates a raised flat sole that delivers the benefits of a lift while providing the comfort of regular shoes.
Fossato Shoes
Fossato is a rubber-soled boot inspired by traditional army footwear. Being the cutting edge of highstreet fashion, Fossato shoes looks good with everything and are ideal for menwho like to keep up with the latest trends. Wear these if you wish tostand out when you hit the streets.
The Lotus Shoes
Lotus shoes are an excellent addition to every gentleman's wardrobe. These men's brogues are madeof high quality leather and feature genuine punch-work and wingtip detailing.Having a stylish yet elegant look these are ideal for all kinds of occasions.
Formal Whole-cut Shoes
Designed to be understated, whole-cut Oxford shoes have seen a steady increase in popularityover the past decade and are currently the hottest dress shoes out there. They feature a simple yet elegant design and have been constructed from a single piece of high quality leather without a back-seam. Although best suited forformal use, these look great with jeans as well.
Balfour Shoes
An easy grab-and-go shoe made of super-lightweight material, Balfour is perfect for summers and ideal for those with a laid-back lifestyle. These sandals are made with a combination of soft and light T-Lamper leather and nylon webbing and come in either a monochromatic white or with black straps and a contrast white sole.
At Don's, you don't need tochoose betweenstyle, comfort and height.  We believe you deserve all three--and take pride in producing the best looking, best crafted and most comfortable elevator shoes on the market.  Whatever style you choose, you can count on getting a stunning, handmade work of wearable art.The time and care invested in creating Don's elevator shoes isapparent as soon as you slip your feet into them.